Description
We have to get a freight quote on this one. We don't want to overcharge you and we can't eat it, so please fill out this quick form to get a quote from the manufacturer.
Holding frames are used for the installation of fiberglass, layered paper, and polyester paint arrestors and intake filters. 
Holding frame only.  Retaining grids are sold separately.
Priced per each with quantity discounts.
GFS Filter Racks are made of galvanized steel.
Custom sizes available.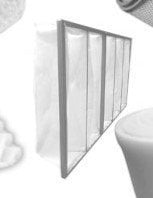 | PART NUMBER | SIZE | PACK QTY | |
| --- | --- | --- | --- |
| FRAG8-E2-20020 | 20x20" | 1 | $165.00 |
| FRAG8-E2-20025 | 20x25" | 1 | $175.00 |
| FRAG8-E2-20040 | 20x40" | 1 | $187.00 |
| FRAG8-E2-20060 | 20x60" | 1 | $178.00 |
| FRAG8-E2-20080 | 20x80" | 1 | $240.00 |
| FRAG8-E2-20100 | 20x100" | 1 | $279.00 |
| FRAG8-E2-20120 | 20x120" | 1 | $319.00 |