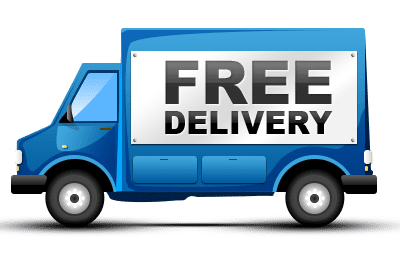 Your shipment
Carriers and lead times vary by manufacturer.  Orders are shipped manufacturer direct.  Multi-product orders may ship from multiple locations.  Ship dates are provided within 24 hours (M-F) and tracking number(s) are posted upon shipment.  Most parts ship in 1 – 3 days.  Some parts may take up to 2 weeks (10 business days) to ship.  We are happy to inquire about current lead times before you place an order.  Known back-orders will be posted below the top menu.  Contact us if a delivery is not received as expected.  We will contact the manufacturer and carrier for resolution.
Shipping is included in the continental U.S.A.
Hawaii, Alaska, Puerto Rico, Canada, and Mexico:  Request a freight quote
All other countries:  EXW freight terms
Some products, such as The Wave, ship by dimensional weight.  As a result, the cost varies dramatically from coast to coast.  Because we cannot average the cost to ship dimensional weight items, we must get a freight quote and charge the shipping cost separately.
Returns
Returns are accepted according to manufacturer policies.  All returns must be approved.  If approved, the buyer is responsible for the return shipping charges.  A re-stocking fee, up to 30% (depending on the manufacturer), applies to all approved returns.  Return instructions are provided by the receiving manufacturer.  *Note:  some items are non-returnable/refundable such as made-to-order custom size filters or specialized non-stock goods.
Damages
Damaged goods must be noted on the BOL or delivery receipt.  Inspect delivered goods before signing the delivery receipt or bill of lading (BOL).   Snap a photograph of the damages and the BOL or delivery receipt and send it to [email protected].  We will submit your evidence to the manufacturer to file claim with the offending carrier.  Damaged goods are replaced by the manufacturer.
Manufacturer Defect
If you suspect a product is defective, snap a photo and send us the details.  We will notify the manufacturer of your evidence.  The manufacturer may or may not pick up the product to be returned for inspection.  Defective products will be replaced by the manufacturer.
Undeliverable Shipments
Shipping is "included" to any location in the continental USA.  "Included" shipping applies to the first delivery attempt.  Because prices are freight based, shipments returned to sender as "undeliverable" will incur a re-delivery fee.  (You are responsible for the freight if your order is returned to sender and must be reshipped.  If you choose to cancel after the first delivery attempt, the original freight cost will be deducted from the refund and the manufacturer will also deduct a restocking fee.)  We will send a secure electronic invoice for payment of the additional freight charges.  Please ensure that the delivery address is current and correct.  Someone must be present to receive LTL shipments and some LTL carriers will call before scheduling your delivery with their driver.